Help us reduce vaccine wastage and save lives by eliminating the need for the global cold-chain
We're crowdfunding!
Pre-register to get priority access to our crowdfunding campaign.

At Stablepharma, our vision is to save lives and reduce global wastage by making fridge-free vaccines a reality. We aim to do this by eliminating the need for the cold chain/refrigeration in the transportation of medical products and we are starting this process with vaccines.
Did you know that today, 50% of vaccines are wasted and 1.5m lives of children are at risk due to failures within the cold chain?
Our mission is to use our StablevaX™ technology to reformulate and stabilise existing and new vaccines in partnership with vaccine manufacturers. Through this, we can eliminate the need for the cold-chain, enhance global access to vaccines, reduce wastage, carbon emissions, and enable strategic stockpiling where it is most in need.
To date, we have identified over 60 existing vaccines which are suitable to become fridge-free. In addition to the existing vaccines programmes around Tetanus diphtheria and mRNA, we are now raising further funds to expand the development of our portfolio and address other key candidate vaccines to become fridge-free. We are also progressing market authorisation of the StablevaX™-Td vaccine.
If you're considering investing in this innovative technology ,that aims to eliminate the need for the cold-chain, reduce wastage and save lives, make sure you pre-register below. This doesn't mean you need to commit to any investment now, but it does guarantee you early access to our funding round before it goes public and our allocation runs out. Join us on our mission to end vaccine waste and save lives!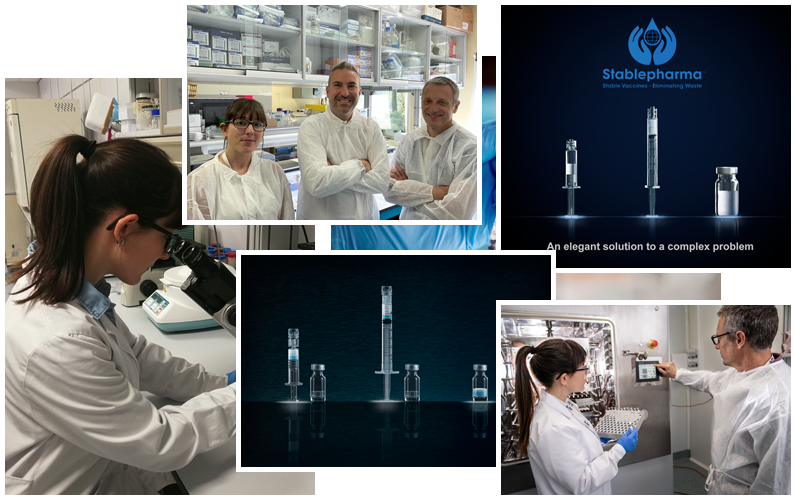 FAQ
Crowdcube is the leading equity crowdfunding platform in Europe. Through their website, you can invest money in return for equity in a business, and entrepreneurs can secure funding directly from their biggest supporters – you. Founded in 2011 with offices across the UK, Paris, Barcelona and Stockholm, they have led successful equity crowdfunding campaigns for hundreds of companies including household names like Monzo, Revolut, Heura, Freetrade, Curve and Mr&Mrs Smith.  https://www.crowdcube.com/
If you invest in a business on Crowdcube you will become a shareholder in that company. In most cases your shares will be held on for you by Crowdcube Nominees Limited. [Have a read of our guide about what the nominee is and does here.] The amount you invest, and the equity issued/number of shares bought will affect your percentage of ownership in the business. Once your investment has been processed and Crowdcube have collected your payment you will be sent your share documentation.
Most investments are for Ordinary Shares held by Crowdcube Nominees and you will have voting and pre-emption rights on those shares. However, you should check the share class on the pitch as this may vary from time to time.
Investing in startup and early stage businesses is high risk. The majority of startups fail or do not deliver shareholders a return on their investment. Liquidity, or the ability to cash in your investment, is limited as it often relies on the company being sold. Such investments in start up and early stage companies are long-term investments. Dividend payments are rare and the likelihood of an investor's percentage shareholding being diluted by future fundraising is high.
Investors should therefore implement a diversification strategy when building an investment portfolio. Diversification involves spreading your money across multiple investments and will give you, as an investor, greater peace of mind that your investments will be sustained in adverse market conditions, and losses will be cushioned. However, it will not lessen all types of risk.
Currently, you can only pay in the currency that's displayed on the pitch page, which is Pound Sterling (£).
Your money will be taken in the currency displayed on the pitch page. Given we are raising in GBP (£), your investment will be taken in GBP (£). If you're investing with a non-UK bank account – like an EU debit or credit card – your bank or card provider will set the foreign exchange rate and may charge a fee. You can check this with your bank directly. Once the pitch has closed, you'll receive an email allowing you to review your investment. Crowdcube will take your payment only once the cooling-period has expired and all other prerequisites to completion have been closed. The exchange rate will be calculated on the date the payment is taken, and you'll receive an email notification 24-48 hours before the funds are taken.
There are two ways you could make a return on your investment: (1) selling your share in the company for more than you paid for it, and (2) receiving dividends from the company.
Selling your shares
Ideally, the business you've invested in will grow to a point where it lists on the stock market ("going public"), is bought by a larger company, or the company management buys back equity from investors. At that point, you might be able to sell your shares and make a profit.
You can also express interest in selling  any shares in a company in your portfolio through Cubex, our secondary market, potentially realising the value of your investment without having to wait for one of the above liquidity events.
Expressing interest to buy or sell shares doesn't guarantee that the transaction will happen, but if buy- and sell-side demands are met, we will seek to facilitate the transaction with the company and let you know when the sale goes live.
Cubex is currently in beta, but we're working on the full roll-out now. Find out more and register your interest in buying or selling shares.
Receiving dividends
In addition, if the company you've invested in becomes profitable, it may be able to pay dividends.
Read more, including some examples of the exits and dividends our investor community have realised, on our investor returns page.
You can invest in businesses from £10, but will be rounded to the closest multiple of the share price. As the share price is set at £0.38, you will be able to invest from approximately £10.33.
To invest through Crowdcube, you must be: 1) Over 18 years old 2) Not be a resident of USA, Canada, Japan, Russia or Belarus https://www.crowdcube.com/
Investing in start-ups and early-stage businesses involves risks, including illiquidity, lack of dividends, loss of investment and dilution, and it should be done only as part of a diversified portfolio. Crowdcube is targeted exclusively at investors who are sufficiently sophisticated to understand these risks and make their own investment decisions. You will only be able to invest via Crowdcube once you are registered as sufficiently sophisticated. Please click here to read the full Risk Warning.
Crowdcube is authorised and regulated by the Financial Conduct Authority (FCA) and the Comisión Nacional del Mercado de Valores (CNMV). This page has been approved by Crowdcube. Pitches for investment are not offers to the public and investments can only be made by members of crowdcube.com on the basis of information provided in the pitches by the companies concerned. Further restrictions and Crowdcube's limitation of liability are set out in the Investor Terms and Conditions.
Investment opportunities are not offers to the public and investors must be eligible Crowdcube members. Please seek independent advice as required as Crowdcube does not give investment or tax advice.