Stablepharma is delighted to announce another new recruit to the Science team in Madrid, Spain based at Stablepharma's Centre of Excellence (CoE) in Qube Technology Park.  With a Bachelors degree in Chemistry from the Universidad de Los Andes – Venezuela and a Biochemistry Master's Degree from Harvard University, Daniela Briceño Garcia has more than 15 years' experience working with drug production, vaccines, antibiotics, analgesics and anti-inflammatories, all to GMP standards.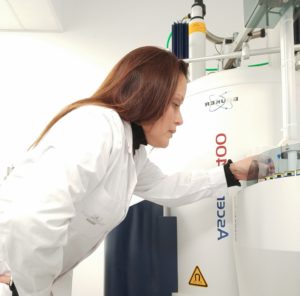 "Daniela is another great addition to our team in Spain', said Dr Arcadio Garcia de Castro, Chief Scientific Officer at Stablepharma Spain CoE, 'she is a Senior R&D Technician with a lot of experience in Assay Development & Validation, Analytical Chemistry and Quality Control in the vaccine area. These are the core skills that we require in the progression of our work with the StablevaX™ brand, as we continue to focus on assay development and validation of 'fridge-free vaccines".  In addition to these responsibilities, Daniela will manage all document updates and elaboration of progress reports.
StablevaX™ is designed to dramatically enhance the performance of existing and new vaccines. Stablepharma Ltd stands to revolutionise the vaccine industry, by helping shield vaccines from temperature-related deterioration and wastage.  StablevaX™ has shown strong in-vitro and in-vivo data on stabilising a range of vaccines, including Tetadif (Td) and naked COVID mRNA.
The team in Madrid has been expanding over the last few months in order to accelerate their work with the StablevaX™ brand, in partnership with several European Pharmaceutical Manufacturers and Universities. Headed by Dr Arcadio Garcia de Castro and Juana de la Torre Arrieta, as Senior R&D Manager, Veronica Daza joined the team in the last quarter of 2021 as a Formulation Manager. Before joining Stablepharma, Veronica specialised as a Pharmaceutical Development Expert in a variety of pharmaceutical companies, such as Insud Pharma.
"Our vision is to eliminate the need for refrigeration, provided access to children and adults who are most in need of vaccines and eradicate the costs and failures of the cold-chain' said Özgür Tuncer, CEO & Executive Chairman of Stablepharma. 'Our team is expanding globally to support our partnerships with European Manufacturer BB-NCIPD Ltd (Bul Bio), the University of Strathclyde, University Hospital Southampton and University Hospital La Paz in Madrid'. 'These are exciting times for Stablepharma as we progress and gather new data in Q1 2022'.  'We are delighted to welcome Daniela to the Stablepharma team", added Özgür Tuncer.
End./