Projects and strategic partnerships
Stablepharma has a strategic R&D and commercialisation partnership agreement in place with the European vaccine manufacturer BB-NCIPD Ltd (Bul Bio) with the aim to produce the world's first 'fridge free' Td-StablevaX™ vaccine.
We have established partnerships with two leading UK Universities: University of Southampton to conduct our First in Human Clinical Trials for the Td vaccine; and the University of Strathclyde to progress our mRNA stabilisation project for Covid-19 vaccines.
Working with the UK's The National Institute for Biological Standards and Control (NIBSC) to conduct animal trials we confirmed that the StablevaX™ tetanus vaccine to induce the same level of antibody response as the positive control vaccine.
Innovate UK is currently providing grant funding to Stablepharma to progress the R&D and product development work for the StablevaX™ Td vaccine.
Our white paper
StablevaX™ - a complementary technology for COVID-19 vaccines
In light of the ongoing Covid-19 pandemic, the challenge of equitable and efficient vaccine delivery has never appeared starker. Stablepharma believes that StablevaX™ could be a crucial complementary technology to currently available Covid-19 vaccines, especially those using mRNA-based approaches.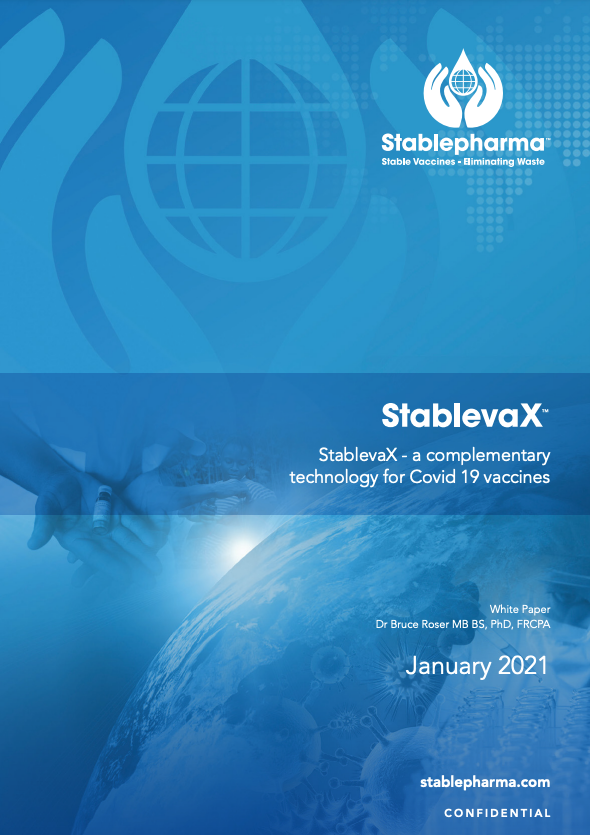 Our white paper
Illustrative Examples of Extraordinary stability of vaccines when dried in Trehalose
Receive our investor information pack
Please enter your details below to receive our investor information pack