Worldwide, 75 million women and their babies remain unprotected against maternal and neonatal tetanus.
Centers for Disease Control and Prevention
Stablepharma is building a rich pipeline of reformulated fridge-free vaccines to enable everyone, everywhere access to lifesaving vaccines. We continue to invest in our proven technology platform to reformulate and launch a pipeline of thermostable vaccines and pharmaceutical products (see Pipeline graph below).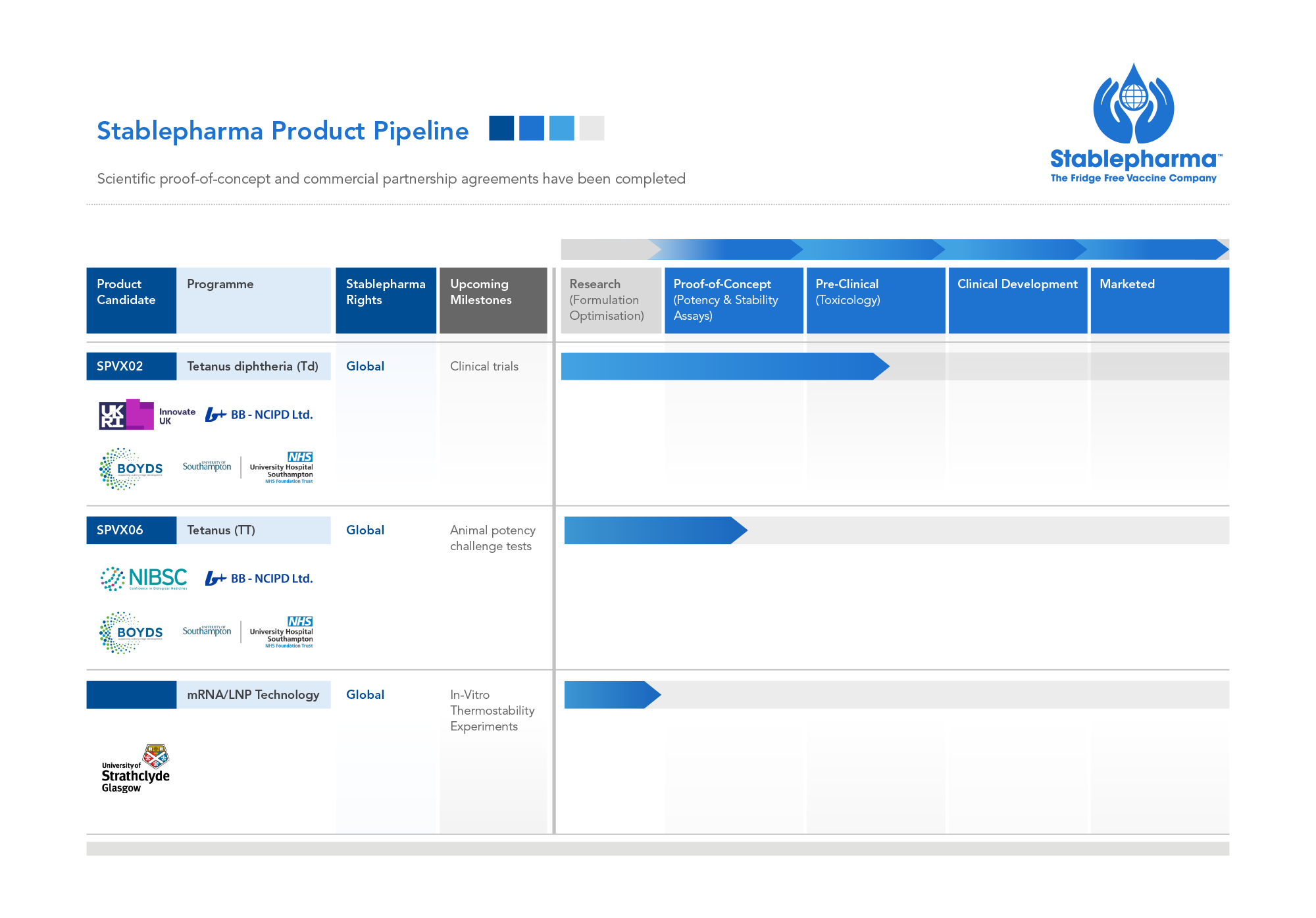 Our lead vaccine, Tetanus diphtheria (SPVX02), fulfils a substantial global unmet need given the continued failures of the cold chain. This is even more challenging for those countries with insufficient infrastructures to transport, store and stockpile vaccines that require refrigeration, as most vaccines need to be stored and transported in temperatures between 2⁰C & 8⁰C. Using our StablevaX™ technology, we have successfully reformulated an existing WHO approved Tetanus diphtheria vaccine, to fridge-free status.
We are developing the world's first fridge-free vaccine for the treatment and prevention of the infectious diseases,
Tetanus and Diphtheria.
About Tetanus diphtheria: Tetanus diphtheria is a combination vaccine that combats the serious effects of both Tetanus and Diphtheria.
Tetanus is an infection caused by bacteria called Clostridium tetani. Tetanus typically enters the body through cuts or wounds. When these bacteria enter the body, they produce a toxin that causes painful muscle contractions. Another name for tetanus is "lockjaw". It often causes a person's neck and jaw muscles to lock, making it hard to open the mouth or swallow (*CDC).
Diphtheria is a serious infection caused by strains of bacteria called Corynebacterium diphtheriae that produces toxins in the body. It can lead to difficulty breathing, heart rhythm problems, and even death. CDC recommends vaccines for infants, children, teens, and adults to prevent diphtheria (*CDC).
Tetanus diphtheria is one of the fastest growing markets within Tetanus and Diphtheria containing vaccines and global demand is projected to be $7 billion in 2027.
We have identified over 60 existing approved vaccines as candidates for our StablevaX™ technology.  To find out more about us, please get in touch at info@stablepharma.com.