A thermostable tetanus/diphtheria (Td) vaccine in the StablevaX™ pre-filled delivery system
Our scientific publication, which was published by the prestigious journal Vaccine (Elsevier) Volume 41, Issue 22, May 2023 presents our fridge-free, single-dose, thermostable vaccine (STVX-01) that has been developed in a pre-filled syringe used for vaccination. Full recovery of vaccine potency, after 7–10 months at 45°C, was shown by complete protection against supra-lethal doses of active toxins.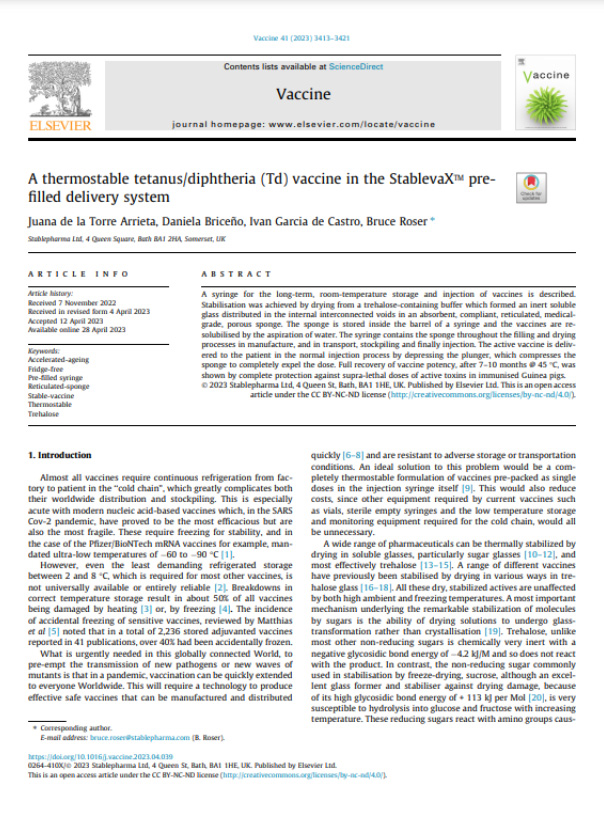 Industry Publications
Transforming Global Access to Vaccines - Unicef.org
UNICEF's pooled procurement of vaccines has helped countries make big strides in their routine immunization efforts, and the procurement of the pentavalent vaccine stands out as a success story. The vaccine protects against diphtheria, tetanus, pertussis, hepatitis B and haemophilus influenzae type b – five potentially fatal diseases.
National Vaccine Wastage Assessment - Unicef.org
This National Vaccine Wastage Assessment by Unicef.org highlights a recent study that shows an average 16 times greater return as compared to the investment made in the National Immunization Programme, proving that immunization is one of the best cost-effective interventions for vaccine-preventable diseases.
The assessment ensured active participation of all Immunization stakeholders such as World Health Organization (WHO), United Nations Development Programme (UNDP), John Snow Inc. (JSI), Immunization Technical Support Unit (ITSU), National Cold Chain Resource Centre (NCCRC) and medical colleges. The field visit for data collection was held from 24 February to 2 March 2019