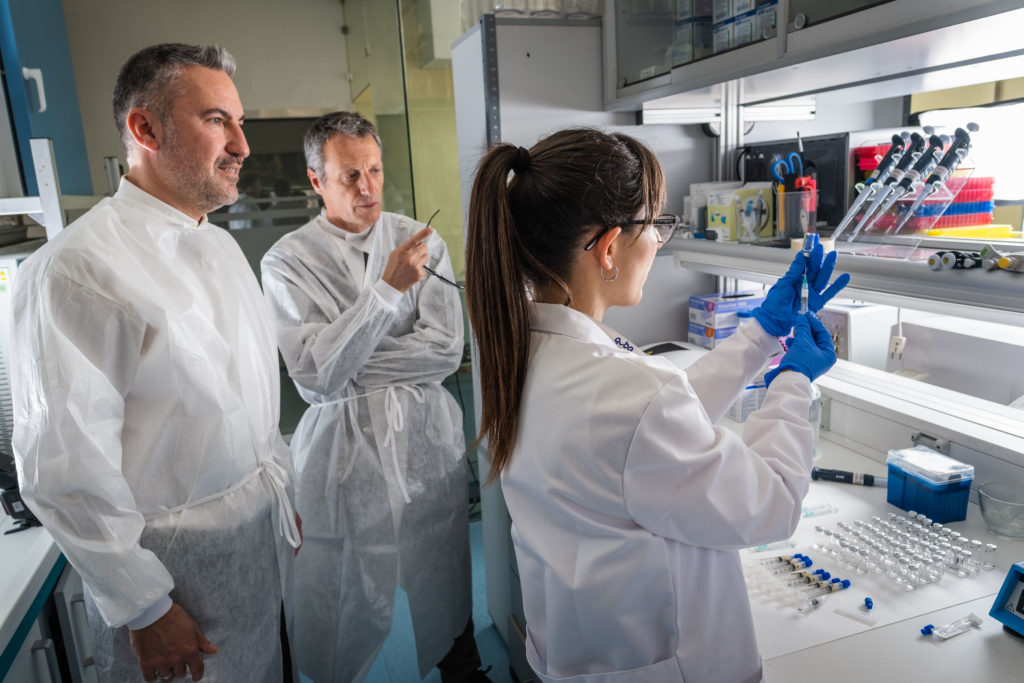 Stablepharma has achieved an important milestone with the Td-StablevaX-M™, having successfully demonstrated stability of the reformulated Td vaccine for up to 10 months at +45ºC in collaboration with our strategic partner BB–NCIPD Ltd (Bul Bio).
Td-StablevaX-M™ is a pre-filled disposable syringe containing dry stabilised tetanus diptheria vaccine for administration by injection following rehydration. Results demonstrate long-term stability at high temperatures, thereby solving a constant problem in vaccine distribution and the cold-chain.
'Results of the animal potency tests are ground-breaking, showing that StablevaX-M™ Td vaccine remains thermostable and as potent as the reference vaccine after exposure to 45°C for up to 10 months'.  Özgür Tuncer, CEO & Executive Chairman
Td-StablevaX-M™ is a reformulation of BB–NCIPD Ltd., Tetadif vaccine which is one of the five WHO pre-qualified Td vaccines that is distributed across many countries. Currently Tetadif is in liquid form and indicated to be kept between +2ºC and +8ºC and to avoid freezing.
Arcadio G. de Castro PhD, Chief Scientific Officer, Stablepharma, explained "We designed an accelerated stability study with our European partner BB–NCIPD Ltd, to evaluate stability after 10 months at +45ºC of Td vaccine, which was reformulated as StablevaX-M™. We have evaluated adjuvant and toxoid integrity as well as in vivo potency. Potency tests were carried out under a fully qualified quality system following Pharmacopeia guidelines, and involved evaluation of the protection confered to animals by the vaccine against a lethal dose of the tetanus and diptheria toxins. The potency tests are the same as those used for batch release of commercial liquid vaccine, which under the same conditions, were found to completely lose effectiveness.
We are very happy with the observed results, as they exceed the current European Medicines Agency (EMA) requirement set for a "fridge-free" pharmaceutical product, which is to demonstrate stability at +40°C for 6 months.
Vaccine structural integrity was demonstrated by Enzyme Linked Immunoassay (ELISA) tests developed in collaboration with UK's NIBSC showing that after 10 months at +45°C, tetanus and diphtheria toxoids in the control liquid vaccine were fully degraded while they remained unchanged in Td-StablevaX-M™.

When asked to summarise the results of the animal potency challenge trials, Özgür Tuncer said, "We are extremely pleased with the in vivo and in vitro results we have achieved with our partner BB-NPICD Ltd'. 'These results clearly demonstrated that a commercial fridge-free Td vaccine is now within our reach'. 'We are moving forward with the development of our first fridge-free vaccine StablevaX™-Td, in collaboration with our partners".
"By eliminating the need for the cold-chain, fridge-free vaccines could result in health economic savings of up to $100 per patient in low income countries – this in itself is a huge incentive for us to progress our technology with our partners", added Özgür.
About Stablepharma:
Stablepharma Ltd is an innovative biotech company developing a range of next generation fridge-free vaccine products. Stablepharma was founded with a simple purpose; to use its novel technology to dramatically improve health outcomes for those adults and children most at risk of death and disability caused by vaccine preventable diseases.
StablevaX-M™ is an adaptable fridge-free technology which offers an extended shelf-life, reduces vaccine wastage and the CO2 footprint of the cold-chain.  www.stablepharma.com